Freddy's Automotive Service is the BEST in the business! Find out a little about who we are and how we got started.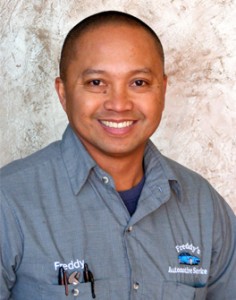 Freddy Barros opened our shop in February of 2009. We've been providing quality auto care ever since. Our owner, Freddy, has over 35 years of auto experience. Between Freddy and our other mechanics, we have over 50 years of experience together. We truly believe we have the best employees in the business. Our success isn't about what we do, but who we are.
Freddy's Auto Service is a staff of hard-working, dedicated employees. They will take care of your vehicle as if it were there own. When you leave your keys with us, you can trust you're leaving it in capable hands. We attribute the success of Freddy's Auto Service to our talented mechanics. Their commitment to customer satisfaction can't be matched! We guarantee you'll be taken care of and respected when you work with us.
Freddy is ASE and Ford Master certified. He oversees every aspect of our business from repair to tires. Whatever your vehicle needs, we remain prepared to handle it with expertise. Our technicians at our certified NAPA repair shop continue training. This is to assure you have the most qualified people servicing your vehicle.
At Freddy's Auto, we service both domestic and foreign vehicles. This is because we dedicate effort to quality service through every task.
Some of our services include:
Oil Changes
Vehicle Inspection
Air Conditioner Repair/Service
Brakes
Electrical Issues
Front-end Repair
Suspension
Transmission Repair
For a complete comprehensive list of what we can do for your vehicle, please visit our Services page.
---
Vehicles We Service
At Freddy's Auto Service we are happy to be experts in servicing a wide array of vehicle makes and models. Below is a list of the vehicles we are able to service.
Domestic:
Pontiac, Plymouth, Oldsmobile, Mercury, Lincoln, Jeep, Hummer, Geo, GMC, Ford, Eagle, Dodge, Chrysler, Chevrolet, Cadillac, Buick and Saturn
Asian:
Nissan, Mitsubishi, Mazda, Lexus, Kia, Isuzu, Infiniti, Hyundai, Honda, Daewoo, Acura, Scion, Smart, Subaru, Suzuki and Toyota
European:
Porsche, Mini, Mercedes Benz, Land Rover, Jaguar, Fiat, BMW, Audi, Saab, Volkswagen and Volvo